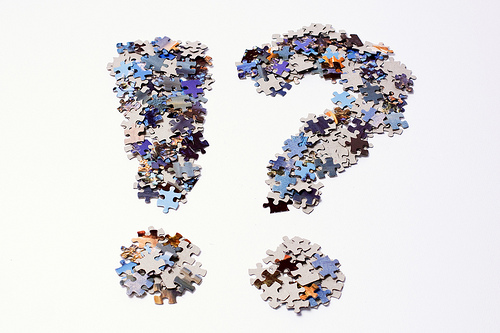 One week ago I published a post here on WPscoop that takes a look at common pricing models and the average prices of WordPress plugins in different niches.
In the post I made several observations, one of them being: Plugins that charge for individual addons are more expensive than competing plugins using a different pricing model.
To further illustrate that point I have created a new chart. It compares the average prices of plugins depending on which pricing model they use:
In case the Google graphic above does not load for you here is the chart as a normal image.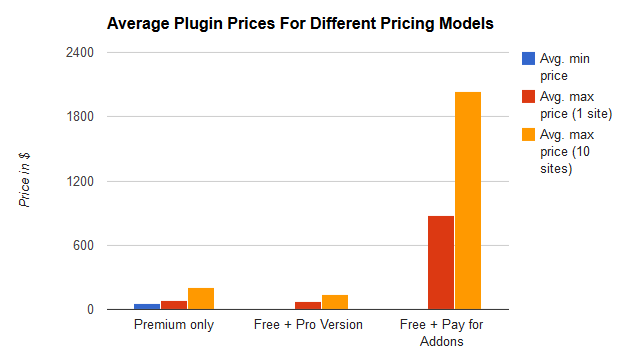 All data comes from my plugin comparisons, which take a look at 40 premium plugins in total. Read my previous post for more details and explanations of the different pricing models. The chart above is based on pricing data from the following plugins:
Premium-only plugins: WishList Member, Magic Members, Memberpress, Memberwing, WP-Member, Restrict Content Pro, QuForm, FormCraft, ARForms, Gravity Forms, SharePrints, Premium Gallery Manager, AD Gallery, Envira Gallery and Backup Buddy
Free plugins with a pro version: Marketpress, s2Member, Formidable Pro, Form Maker, Visual Form Builder, NextGen Gallery and BackWPup
Free plugins charging for addons: Woocommerce, Easy Digital Downloads, Jigoshop, WP e-commerce, Shopp, Exchange, MaxGalleria, Ninja Forms, InfiniteWP and UpdraftPlus
In the first column of the chart you can see that the typical price for a premium-only WordPress plugin starts at around $50 for the basic version, shown by the blue bar. The red bar shows that a premium version with all features for one site costs $90 on average. The average price for a version that can be used on multiple sites is around $200 as shown in the orange bar.
For freemium plugins with a paid pro version (second column) the price logically starts at zero and so the blue bar is empty. The cost goes up to 140$ on average for the unlimited pro version, again shown in the orange bar.
The set of bars on the right looks at the price of plugins that charge per addon. Since they also come with a free basic version the blue bar sits at zero again. If you wanted a version with all features (and hence need to buy all available addons) you would have to pay a whooping $880 on average. If you also want to use the plugin on multiple sites the price rises even higher, to an average of just over $2000.
That means if you needed all features plugins charging per addon are on average 10 times as expensive as "premium-only" plugins.
Of course it is important to note that this is an extreme example: In reality no one will ever need to buy all extensions of a plugin. The comparison is also not entirely fair because the total number of features (which is generally high in addon plugins) per plugin is not considered.
Still you just need to take a quick look at individual extension prices (for example in the WooCommerce shop) to see that there is still a lot of truth in it. With individual extensions costing well upwards of $50 even if you only require 5 or 6 of them the price will already exceed $300, more than what the average premium plugin charges (as shown in the chart – think $199 for a developer version of Gravity Forms).
The Advantages Of Paying For Addons
The potentially very high cost of plugins that charge per addon is only one side of the medal however. On the other side plugins using this pricing model do also have some unique advantages that can make them the right choice for many people:
1. Addons can provide very specific features.
Plugins that charge for addons generally have more niche features available than the competition. One reason for that is that each addon has its own price tag and so it can pay off for developers to create extensions for a smaller group of people as well. The other reason is that 3rd parties can also create and sell their own addons.
For an example just take a look at the big list of WooCommerce extensions again. Among the 200+ extensions are many very niche ones (like a Croatian payment processor or Brazilian shipping rates) which I am sure would not exist for a plugin with any other pricing model since the incentive to create them would not be there. Here the people that need the feature have to pay for it and as such fund its development.
Ninja Forms is another good example. In my form plugin comparison you can see that they already overtook long-established Gravity Forms in total feature count. Part of the reason for that is 3rd party developers creating and selling new addons for Ninja Forms. Among them are many integrations for smaller services, for example Mad Mimi and MailPoet extensions, which are not available for any competing form plugin.
2. Addons allow you to grow flexibly.
Since all plugins that charge per addon offer a free basic version it is easy to get started with them as a beginner. Once your business is growing you will sit on top of a large pile of addons and you can pick up the ones you need depending on the direction your business is going.
3. You can build your own addons (or hire someone to build them).
For plugins to allow 3rd party developers to create new extensions they have to be built with expandability in mind. That does also make it easier to extend such plugins yourself or hire someone to do so according to your websites specific needs.
Of course that is not to say this would be impossible for plugins with a different pricing model. It is just easier. If building a marketplace with 3rd party addons is part of the business idea of the plugin there will usually be more documentation on how to build addons that could get you started. There will also be addon developers with experience which you could hire.
Choose The Right Pricing Model
What does all that mean? It is important to consider the pricing model when choosing a premium WordPress plugin.
Based on your business, budget and requirements choosing the right model could save you hundreds of dollars. Choosing the wrong model could be costly in the best case and limit you in your future expansion in the worst.
The right model will of course depend very much on you. It depends on your budget, on your feature requirements and also on your technical abilities and personal preferences.
When you are searching for an eCommerce plugin or trying to find the right WordPress form plugin be sure to ask yourself these questions:
Do I need a lot of different features? If so paying for addons could get expensive in comparison.
Do I need very specific features? If so they might only be available in plugin platforms (or can at least be developed for them).
Do I need an extensible platform with the possibility to have my own extensions created? That would make an addon plugin the right choice.
Do I prefer a hands-off solution with minimal setup required? In this case look for a hosted SaaS product.
To help you answer these and related questions of choosing a WordPress plugin I have created several detailed plugin comparisons here on WPscoop. They make it easy to compare plugins with different pricing models and feature sets in the same niche by allowing you to filter the alternatives according to your requirements and budget.