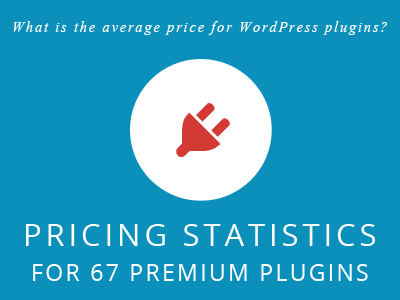 On this page I would like to show you several interesting statistics I have collected for 67 of the most popular commercial WordPress plugins, including details on common pricing models and average prices charged by those products.
All the data is coming directly from my plugin comparison articles. As of today I have created feature + price comparisons for 10 different categories of WordPress products, from eCommerce plugins to SEO plugins. In all of them I have worked closely with the plugin developers and built a way for them to easily check and correct their listing data.
Please note that the below stats are not static: Both the statistics and comparisons get updated regularly in order to stay up to date. If you spot any mistakes be sure to let me know so I can fix it!
User Reviews for Commercial Plugins
I am building a database of user reviews for premium plugins here on WPscoop. Please help others with their choice by rating the plugins you are using. Click here to learn more!
1. Common Plugin Pricing Models
For each plugin listed in my comparisons I track how the developers choose to sell their product. Before getting to the results here is a short summary of the four popular pricing models you will find in the graphics below:
Premium – Commercial plugins that are sold at a fixed price and do not have a free version available. Generally you own the plugin after purchase but with most vendors you will need to renew your license after 1 year if you want to continue receiving support.
Freemium with Pro Version – A basic version of the plugin can be downloaded for free. A pro version is sold and adds additional features.
Freemium with Addons – A basic version of the plugin can be downloaded for free. Depending on your needs you can purchase and add individual addons, each of which adds a specific new feature to the plugin.
Subscription / SaaS – You pay for the plugin (or the service to use it) through a recurring subscription. Usually you can not continue to use the plugin/service if you stop to pay.
Now, let's finally get to the meat of this article: Colorful charts. The following one shows the distribution of pricing models among all 67 tracked plugins:
How about some more pie? The next charts show you the distribution of pricing models for each of the 10 plugin categories separately:
eCommerce Plugins
Membership Plugins
Form Plugins
Manager Plugins
Backup Plugins
Gallery Plugins
Affiliate Plugins
Slider Plugins
Optin Plugins
SEO Plugins
My Takeaways
As you can see the categories show very different levels of color: In some of them one or two kinds of pricing models clearly dominate. That could indicate that new players often followed the example set by the leaders or established products in their niche and imitated their pricing structure.
But the opposite example does definitely exist as well: In a few niches new WordPress products have successfully used a different pricing model to differentiate themselves from the established competition. One example is Ninja Forms, which was the first to use the pay per addon model in the form plugin space. MarketPress on the other hand is advertising the fact that they do not charge per addon like most of their competing eCommerce plugins do. And InfiniteWP saw an opportunity when many people were complaining about the high subscription-based pricing of ManageWP and entered the market with an alternative that charges flat addon fees.
For some niches there are also simply logical reasons that lead to a dominant pricing model: eCommerce plugins for example depend on many niche features (like local payment providers or shipping tracking) being available. That makes the addon model, where independent developers can create and sell their own niche solutions, an attractive choice.
2. Average Plugin Prices
The following graphics are trying to answer the question: What does a premium WordPress plugin cost on average? I have tracked the minimum and maximum average prices, both for the use on a single site as well as for use on 10 sites. Since many products have complicated pricing structures and might charge for different things I have used those simple pricing points that can be easily compared between all the different products. Here are more details on what exactly each value means:
Minimum Price (1 Site) – Means the lowest price a plugin is available for if you want to use it on a single site. For freemium plugins this is the free version. For premium-only plugins it is the basic version or cheapest package they sell.
Maximum Price (1 Site) – The price you need to pay if you want to use the plugin on a single site with all features. Usually this will be the most expensive package listed on the developers site that includes all functionality. For plugins selling individual addons it factors in the price of all the addons tracked in my comparison.
Minimum and Maximum Price for 10 Sites – This tracks how the price changes if you want to use the plugin on 10 sites instead of on a single blog. Plugin developers charge very differently for use on multiple sites: Some require a license for each site, others offer a discount or even allow use on many sites at no additional cost.
Please note all prices are calculated as "cost per year". For SaaS and subscription-based products that charge on a monthly basis prices are calculated "per year" to make them comparable with the other plugins. For example a backup service that starts at $10 per month for 1 site would have a minimum price of $120. You can see the exact prices used for all products in the table at the bottom of the page.
With all those explanations out of the way here is a chart that shows the average minimum and maximum prices of all 67 compared premium plugins:
Just like before here is again the breakdown of average plugin prices for each of the 10 different categories:
My Takeaways
From my observation WordPress plugins have very homogenous prices, even when looking across several categories. For typical premium plugins you will very regularly see price points starting at around $49 for a basic version which is then going up to $149 or $199 for a version that comes with all the bells and whistles. A prime example where you can see this is the "Membership" category above: Most plugins in this niche have similar pricing model and price points.
One big exception are plugins charging per addon, which drive up the average prices displayed in the graphics above by a lot. That is most visible in the eCommerce category: Since the maximum price figures in the cost of all tracked addons plugins like WooCommerce and Easy Digital Downloads reach numbers of several thousand dollars. Important to note of course that this is mostly a theoretical (yet interesting) figure because no one will actually need to buy all those addons.
Plugins sold on CodeCanyon drive down the average minimum price: With a cost of around $20 they are usually cheaper than their commercial competitors not sold on the CodeCanyon marketplace. This changes when looking at cost for use on 10 sites however: Since with CodeCanyon you need to pay for each site you want to use the plugin on they quickly get more expensive than the competition, which often offers discounts for multi-site users.
3. Individual Plugin Data
Below follows a complete list of all the plugins that are part of the statistics above as well as their respective data that was used to calculate the averages.
You do not really need to read this unless you are curious which plugins are represented in the data above or you want to double check the values I used. No matter if you decide to stop here or not, feel free to jump to the comments and let me know your opinion or any other feedback!
Name
Pricing Model
Min Price (1 Site)
Max Price (1 Site)
Max Price (10 Sites)
Membership Plugins – view my Membership plugin comparison
WishList Member
Premium
97.00$
97.00$
297.00$
s2Member
Freemium
0.00$
69.00$
129.00$
Magic Members
Premium
97.00$
97.00$
207.00$
MemberPress
Premium
99.00$
199.00$
199.00$
Memberwing
Premium
89.95$
89.95$
129.95$
Paid Memberships Pro
Freemium
0.00$
97.00$
97.00$
WP-Member
Premium
47.00$
147.00$
147.00$
Restrict Content Pro
Premium
42.00$
155.00$
155.00$
Digital Access Pass
Premium
167.00$
167.00$
297.00$
eCommerce Plugins – view my eCommerce plugin comparison
WooCommerce
Freemium + Addons
0.00$
3410.00$
8368.00$
WP eCommerce
Freemium + Addons
0.00$
627.00$
1108.00$
iThemes Exchange
Freemium + Addons
0.00$
582.00$
1062.00$
Jigoshop
Freemium + Addons
0.00$
1067.00$
3177.00$
MarketPress
Subscription
0.00$
228.00$
228.00$
Easy Digital Downloads
Freemium + Addons
0.00$
1463.00$
3291.00$
Shopp
Freemium + Addons
0.00$
674.00$
1009.00$
Cart66 Cloud
Subscription
360.00$
360.00$
3600.00$
Management Plugins – view my Management plugin comparison
CMS Commander
Subscription
0.00$
80.00$
120.00$
ManageWP
Subscription
0.00$
239.99$
419.98$
InfiniteWP
Freemium + Addons
0.00$
759.50$
759.50$
WP Remote
Freemium
0.00$
0.00$
0.00$
iControlWP
Subscription
11.40$
54.00$
540.00$
MainWP
Freemium + Addons
0.00$
319.90$
319.90$
iThemes Sync
Subscription
0.00$
1560.00$
1560.00$
Form Plugins – view my Form plugin comparison
Gravity Forms
Premium
39.00$
199.00$
199.00$
Formidable Pro
Freemium
0.00$
47.00$
117.00$
Ninja Forms
Freemium + Addons
0.00$
355.00$
750.00$
Quform
Premium
28.00$
28.00$
280.00$
FormCraft
Premium
33.00$
33.00$
330.00$
ARForms
Premium
33.00$
33.00$
330.00$
Form Maker
Freemium
0.00$
30.00$
60.00$
Visual Form Builder
Freemium
0.00$
69.00$
249.00$
Backup Plugins – view my Backup plugin comparison
BackWPup
Freemium
0.00$
75.00$
190.00$
blogVault
Subscription
108.00$
108.00$
1188.00$
VaultPress
Subscription
60.00$
348.00$
3480.00$
Backup Buddy
Premium
80.00$
80.00$
100.00$
BackUpWordPress
Freemium + Addons
0.00$
120.00$
1200.00$
UpdraftPlus
Freemium + Addons
0.00$
102.50$
1025.00$
Gallery Plugins – view my Gallery plugin comparison
NextGen Gallery
Freemium
0.00$
39.00$
39.00$
Envira Gallery
Premium
19.00$
49.00$
99.00$
AD Gallery
Premium
17.00$
17.00$
170.00$
Premium Gallery Manager
Premium
22.00$
22.00$
220.00$
SharePrints
Premium
39.00$
39.00$
129.00$
MaxGalleria
Freemium + Addons
0.00$
114.00$
594.00$
FooGallery
Freemium + Addons
0.00$
19.00$
69.00$
Affiliate Plugins – view my Affiliate plugin comparison
AffiliateWP
Premium
49.00$
199.00$
199.00$
Affiliate Royale
Premium
85.00$
85.00$
165.00$
WP Affiliate Manager
Freemium
0.00$
39.00$
97.00$
Magic Affiliate
Premium
89.00$
89.00$
189.00$
Affiliates Pro
Freemium
0.00$
99.00$
199.00$
Slider Plugins – view my Slider plugin comparison
Soliloquy
Premium
19.00$
99.00$
99.00$
SlideDeck
Premium
49.00$
99.00$
119.00$
Slider Revolution
Premium
18.00$
18.00$
180.00$
LayerSlider
Premium
17.00$
17.00$
170.00$
RoyalSlider
Premium
22.00$
22.00$
220.00$
Slider PRO
Premium
28.00$
28.00$
280.00$
Optin Plugins – view my Optin plugin comparison
Bloom
Subscription
89$
89$
89$
OptinMonster
Premium
49.00$
199.00$
199.00$
Pippity
Premium
49.00$
49.00$
164.00$
Optin Revolution
Freemium
0.00$
77.00$
97.00$
Ninja Popups
Premium
20.00$
20.00$
200.00$
PopupPress
Premium
17.00$
17.00$
170.00$
SEO Plugins – view my SEO plugin comparison
WordPress SEO by Yoast
Freemium + Addons
0.00$
247.00$
907.00$
All in One SEO Pack
Freemium
0.00$
39.00$
0.00$
SEOPressor
Premium
97.00$
97.00$
97.00$
Premium SEO Pack
Premium
39.00$
39.00$
390.00$
WP Full SEO
Premium
297.00$
297.00$
297.00$
SEO Plugin by Squirrly
Subscription
0.00$
240.00$
912.00$