The All Rewriters plugin integrates 6 APIs of the most popular content spinning programs available on the internet into your WordPress blog, allowing you to use any or all of them to easily spin articles directly in your WP editor and then preview, compare and apply the results.
Currently All Rewriters supports the following 6 content spinners. Please note none of them are owned or managed by me. I simply integrated their official API into this WordPress plugin so that you can easily use them to rewrite your posts!
After installation you will find a new meta box on the WordPress "Add New" screens that will allow you to spin the article you are currently working on through any of your enabled rewriting software APIs with a single click, preview the spun article, compare it to the results of other rewriters and finally copy the spun version back to the editor if the result is satisfactory.
Please note that to use All Rewriters you need to have an account with at least one of the supported rewriting applications.
Features
One click spinning of the article you are working on.
Easily compare the results of several different spinners and choose the one with the highest quality!
Chain Spinning: Rewrite an article several times through different spinner APIs to make it more unique.
Rewriting for custom post types: The meta box can be used to rewrite WooCommerce products, portfolio items and any other besides standard WordPress pages and posts!
WP Robot integration: All Rewriters allows you to use all its features in the premium WP Robot plugin in order to automatically spin all posts created by WP Robot. Please note: If you use WP Robot you do not need to install All Rewriters separately. It is already included!
Download the All Rewriters Plugin
Installation Instructions
Upload the plugin folder to your /wp-content/plugins/ folder
Go to the Plugins page and activate All Rewriters
Go to Settings > All Rewriters to activate the spinning software of your choice and enter your user details.
Screenshots with Setup and Usage Instructions.
1. The All Rewriters Settings Page. After activating the plugin you can choose the spinning software APIs you want to use with "All Rewriters" on its settings page (under the WordPress "Settings" navigation item). For each software you choose you need to enter your user details for them to work.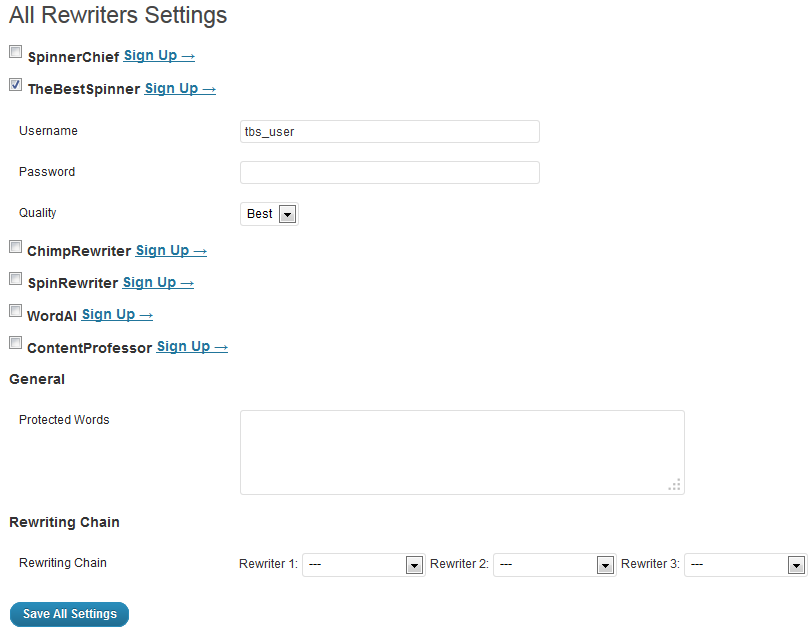 2. The All Rewriters Metabox gets added to the WordPress "Add New" post and page screens. It shows a button for each spinning software you have activated in the All Rewriters settings. Clicking the button will rewrite the current editor content with the help of the chosen spinning API.



3. Applying the Results: After pressing a button the returned spin is displayed in the metabox. You can then either rewrite it again with the buttons next to the results or copy the spun article back to the editor by pressing "Copy to Editor".

As you see using the All Rewriters plugin is very simply: Enter the API details of the spinning software of your choice on the Settings page and after that you can spin any article you are working on in the WordPress post editor with a single click. Another click copies the returned spun article back to your editor.
Feedback and Suggestions
If you encounter any problems when using All Rewriter please let me know and I will try to take care of them as fast as possible. Likewise I would also love to hear any feature suggestions you might have, including other rewriting applications which offer an API and which I could thus add to the plugin.  Simply leave a comment here with your suggestions and questions or write me an email!
Updates
21.12.2014 – Version 1.1 of AllRewriters has been released. It adds support for rewriting custom post types like WooCommerce products (and any others). Besides it also improves performance of spinning with Content Professor and fixes a few minor bugs.