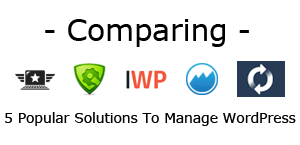 I am happy to announce the launch of a big and in-depth comparison of WordPress management products here on WPscoop. Managing multiple WordPress blogs from a single dashboard has become very popular over recent years. And with good reason as the advantages of doing so are easy to see: If you manage more than a handful of weblogs, either for yourself or for clients, you can save a lot of time by updating and controling them all simultaneously from one place instead of logging into each site individually.
Because of that more and more products have joined the WordPress management market, all of them with a different set of features and different pricing models. That is of course great for all users in general: Choice is good and choice decreases prices. At the same time it can make it harder to reach a decision on which solution is the right one for you. Which of the many ways to manage multiple blogs is the best one for your business? This comparison is meant to assist you in finding an answer to that question! I hope it helps you to find the WordPress management service that best matches your budget and needs.
The comparison is split into several parts: The main comparison article contains a cool AJAX search-script that allows you to filter all compared WP managers. You can specify how many websites you want to manage and which features you definitely need and the comparison shows you which products have the most of the features you want at the lowest price possible. Furthermore there is a review for each individual WP management product which gives you a few more in-depth details (you can find the links below) as well as a "match up" comparison between each pair of products, e.g. "InfiniteWP vs ManageWP" if you are only stuck deciding between two choices.
Currently the comparison includes the following five products to manage multiple blogs, all of which are well-established brands among the most popular or first to enter the market. I will be adding more products soon and plan to keep the comparison updated for new features.
I hope the comparison is helpful to you in choosing the right solution to manage all your blogs. If you find any mistakes please contact me so I can update the articles. If you want you can leave your feedback or opinion of each product as a comment.
For the future I plan to do the same kind of comparison for other WordPress products, for example comparing all popular premium form plugins or WP e-commerce solutions. I would love to hear from you if you are interested in comparisons of this kind and what products you would especially want to see compared here on WPscoop. Simply tell us in the comments!