Just recently I have released another free WordPress plugin to join the ranks of my existing spinning plugin AllRewriters and the affiliate page plugin WP Shopping Pages. The new one is called WP Inject and makes it super easy to find creative commons images on Flickr and then insert photos into your blog posts. In fact the whole process, from searching for photos to inserting them, only takes 3 clicks and can be done directly from within your editor.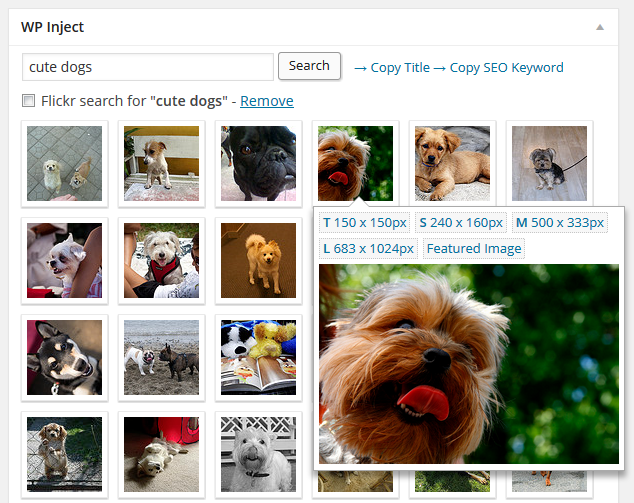 WP Inject is hosted in the official WordPress plugin directory. That makes it a breeze to install on your blog and try out: Simply go to your "Plugins > Add New" page and search for "wpinject". Then click the install link for the first and only result you will get! If you need more help and instructions I have written a detailed tutorial on how to install and use WP Inject as well.
Despite being a new plugin the list of features in WP Inject is already long. Here are a few of my favorites:
Find and inject targeted creative commons images with only 3 clicks!
Required attribution links for the photographer are added automatically to save you time.
All images can get saved to your WordPress media library.
Search engine optimized: alt tags are added automatically and the plugin integrates with WP SEO by Yoast.
Lots of settings and templates – if you wish you can fine tune every aspect of WP Inject to your liking. If not you can start using WP Inject right out of the box after installing!
Currently WP Inject "only" searches Flickr for images. Only is in quotes because Flickr does undoubtedly offer the largest directory of free to use creative commons images on the net with millions of possible results. Still, I plan to add other sources to the WP Inject plugin in the future! Those new sources will not be limited to images. Eventually WP Inject will be able to inject videos, ads, news and more into your posts as well.
I hope you find WP Inject useful. Feel free to let me know what you think of it in the comments.Photo by Sarah G…